Attention Members
The deadline for the APW-ABA Memorial Scholarship - Honoring: Michael A Tosches, Thomas Harto and Eugene Johnson has been extended to June 15, 2020.
Attention Claimants
If you are having difficulties obtaining documentation to file your claim for disability or request an appeal due to the recent pandemic, effective immediately we are providing a 60-day extension to existing time limits to submit the necessary information. If you have any questions regarding your claim do not hesitate in contacting us.
The American Postal Workers Accident Benefit Association (ABA) is pleased to announce an increase to our Dismemberment Lump Sum Benefits and Accidental Death Benefits which become effective on January 1, 2019. With this enhanced benefits structure there will be NO increase in premiums for either our Value Plan or Advantage Plan members. Additionally, effective January 1, 2019, spouses of active APWU and ABA members may enroll in our Plus Plan (Accidental Death Benefits) for coverage up to $150,000. Previously, spouses were limited to $50,000 of coverage in the Plus Plan. Premiums for spouses will be identical to active APWU and ABA members for this additional Plus Plan coverage. Please see the chart below for the categories of benefits being increased. The APW-ABA thanks you for your support and we look forward to increasing additional benefits in the near future.
Wayne D. Maurer, National Director
Entire APW-ABA Staff joins Boston Metro Area Local for the National Day of Action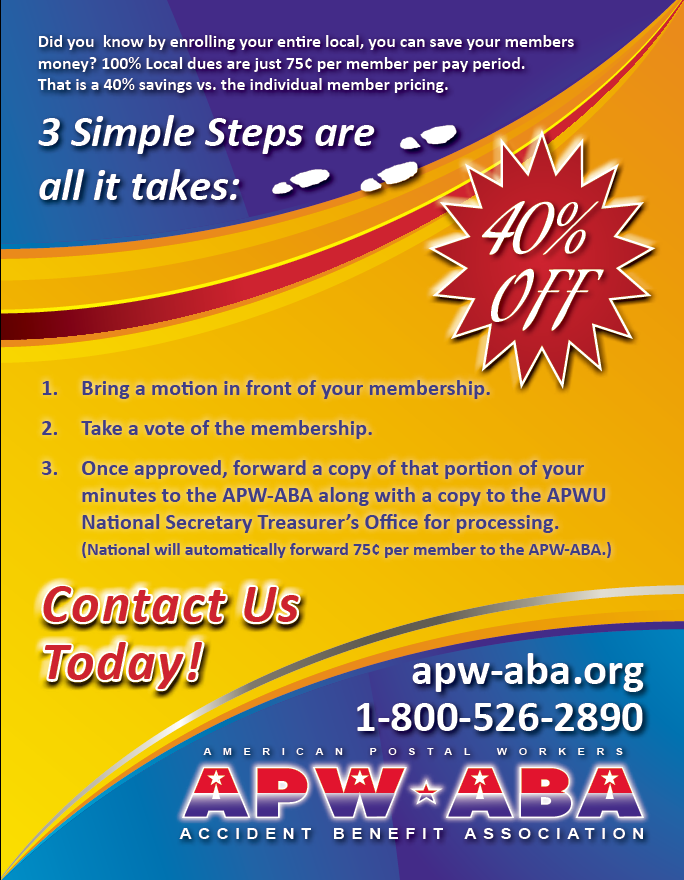 ---